Track2Realty Exclusive
Bottom Line: Eastern Freeway has changed the travelling experiences and life for many in Mumbai.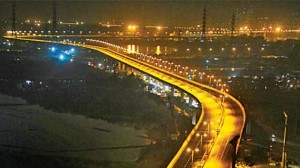 Rakesh Sharma, Vice President of a NBFC company knows the pains of living in Mumbai and commuting daily to work. He lives in Chembur and works at Nariman Point. For a long period he used to leave home at 7 in the morning to reach at 9. He recalls this as a safety valve to not get late when he was just working as a General manager and waiting to be promoted.
β€œIt used to be a daily ordeal with snarl driving from Chembur to Sion to Byculla, Fountain and then Nariman Point. Though it was one and half hours drive but due to traffic bottlenecks I used to leave early and then reach 45 minutes before the office opened. It followed up with same kind of late return everyday," points out Sharma.
Life changed for him in the last 3-4 years with the Eastern Freeway. Now he travels to same office in 40-45 minutes. The new route via Eastern Freeway to Carnac Bridge and then Nariman Point is what he never visualized as a reality earlier.
He recalls most of the people coming from South Mumbai used to take the service road that went through the Bhakti Park residential pocket to exit for Wadala and the Eastern Express Highway. Commuting experience can change the mood of the travellers as well.
β€œI can give some quality time to family. It is not that beyond the Eastern Freeway there are no traffic challenges. As a matter of fact, immediately after the Eastern Freeway there is traffic bottleneck as the traffic diversion towards the West and South cause some delays. But then it is normally a moving traffic," says Sharma.
Eastern Freeway is not just a 17km road stretch that considerably cuts down travel time between South Mumbai and Chembur, it is a lifeline for working class in this part of the world.
The best part, as Sharma, feels is that you come across happy faces while going to office. It is not like the earlier traffic stuck hassled and tensed look of the commuters.
The best part that this finance professional feels is that along with the ease of travel time and experience, the property value of his Chembur house has appreciated to a considerable extent.
β€œI do not feel like not being a part of South Mumbai as well where I can hangout after office hours without much stress about how and when to return home," shares Sharma.