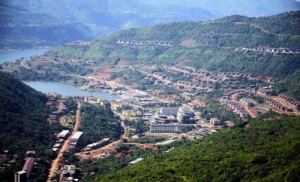 A day after its Managing Director Vinod Goenka was arrested in the 2G spectrum scam case on Wednesday, the controversial Mumbai-based real estate company DB Realty inducted his father, K M Goenka, as a Non-Executive Director. The DB management similarly inducted Usman Balwa, father of Shahid Balwa, as a Non-Executive Director, during a company board meeting held on Thursday. Shahid stepped down as MD after his arrest in February. His elder brother, Asif, the Chief Financial Officer of DB, was also arrested last month in connection with the scam, described as the largest in India.
The two fathers will play advisory roles in the company. The company insiders maintain they have come to protect the interest of DB Realty and help us in these troubled times. Usmanbhai is 56 while the senior Goenka is over a decade older. "They come with experience, maturity and knowledge of business," said a source requesting anonymity. Both the fathers have no stake in DB Realty. While the senior Balwa is in the hospitality business (he owns several hotels), K M Goenka founded the realty firm, Conwood, and runs a flourishing dairy business in Sharad Pawar's hometown of Baramati. The company will also soon shortlist a candidate for a new CFO to replace Asif Balwa.
"Despite his arrest, Vinod Goenka continues as Managing Director. His arrest was unexpected. We are hopeful he will get bail," said a senior company official. "There is a feeling of disappointment among the employees these past two days since Goenka's arrest," he added. "DB Realty is an independent entity and has no shareholding with the hospitality and telecom arm of the group. It is professionally run by ten functional heads including expats," said N Shridhar, Group Director (Strategy and Finance), who joined the company four months ago. "The operational and execution of projects has not been impacted," he added.
However, a company insider said the Goenkas and the Balwas may go their separate ways and divide their empire sometime in the future. The company officials maintain the company would not acquire more land, but instead concentrate on completing ongoing projects. "We will focus on the customer and delivery of existing projects," they said.
Currently, DB has 12 under-construction projects in Mumbai and one in Pune totalling 20 million sq ft. The company claims to have a net worth of close to Rs 3,200 crore of which Rs 250 crore is debt. "The environment is not conducive to raise fresh loans because of the controversy and banks restricting lending to developers," said DB officials.