Track2Realty Roundtable Panelists—Dr Anil Sharma, CMD, Amrapali Group
Sunil Dahiya—Sr Vice President, NAREDCO & MD Vigneshwara Developers
Harmit Chawla—MD, HCorp Realty
PK Tripathi—President, Unitech
Moderator—Ravi Sinha, CEO & Managing Editor, Track2Realty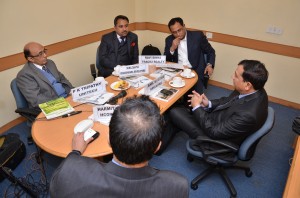 Ravi Sinha: How will the market shape up in 2013?
PK Tripathi: We have a consensus on the demand side of it. Price variation is there. Even today, I get a call for ready-to-move-in houses. Everybody has a demand and they have a budget. So, if you are able to fit into that then you are a smart mover.
We should request the government that let the entrepreneurs do whatever they want to do, provide the guidelines and get out of it. Over regulation will kill the sector, the way it hampered the growth of telecom.
Ravi Sinha: We understand that the macro-economic indicators are very vague at this moment. But the question is whether the sector is ready for change to become transparent.
Anil Sharma: Should I tell you honestly, why do you think only the sector should be transparent? The entire eco system and regulatory environment has to be transparent. If I move table-to-table for 35 approvals, it is evident that nothing is transparent.
But even in the given system the developers have changed themselves. We are ready for more improvements provided we are given a transparent system from the government side.
Ravi Sinha: And how realistic is that to expect?
Harmit Chawla: I think there are two levels of transparency. One is the micro which is at my end and then there is the macro where I come in as a businessman and is beyond my control. In India, either I can follow laws or do business. What I feel is that you will end up breaking laws not because you want to but because you don't have an option. However, the extent of laws that you are going to break is something in your hands.
Ravi Sinha: Mr Tripathi, you have seen things from the government side. How optimistic are you of transparency coming into the sector?
PK Tripathi: It will take at least five to seven years. In the course of time, slowly technology will play a tremendous role in providing the services where slowly automatic systems are coming up. In our industry, it has happened a little slowly.
It is obvious with so many people getting indicted and so many things happening, it is going to happen.  But in one year nothing much is  going to change.
Sunil Dahiya: We did a study with a knowledge partner in 2008, it was a meltdown year. One of the big five (IPC) was our knowledge partner and we said what is the difference between 100 per cent FDI in real estate and Indian real estate developers? The answer in one line was "cutting edge technology"
Ravi Sinha: I agree that this Industry is going to see lot many positive changes ahead. I wish this change is better adopted by the sector, rather than being imposed on it and it is here that the sector has to decide whether to change themselves or you want the government side to force a change. Thank you all for a wonderful discussion.
Ends….