News Point: Classic contemporary G+28 residential twin towers promises to be the perfect waterfront address in the heart of Dubai. Unobstructed views of top city's main attractions within the heart of Dubai.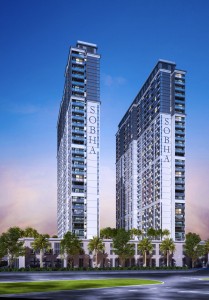 Sobha Realty has launched 'Sobha Creek Vistas' in Sobha Hartland. The resort-style luxury housing project encompasses 8 million square feet of freehold community in Mohamed bin Rashid Al Maktoum City. It's close proximity to Dubai's top attractions and stunning views makes it a sought-after project.
With special focus on optimal interiors, German technology and the signature Sobha quality, Sobha Creek Vistas and at Sobha Hartland boasts of modern classic architecture.
It will uniquely comprise of 1 and 2- bedroom apartments in twin towers of 28 floors each. Each unit will come equipped with its own balconies, study (optional), fully fitted kitchens, central air-conditioning, smart home automation and state of the art fixtures and finishes.
These residences come complete with secure parking and there will also be a provision for dedicated shaded car parking for over 780 cars
The Sobha Creek Vistas residences are set in the most scenic views of the city's main attractions like the Dubai Creek, the Ras Al Khor bird sanctuary, Downtown Dubai and the iconic Dubai canal. 
This residential project provides a refreshingly different upscale lifestyle for city lovers and both investors and end-users will benefit from an East West orientation to ensure optimal views over the landmarks in the vicinity, unlike other towers in the area.
PNC Menon, Founder and Chairman, Sobha Realty, said, "We are delighted to announce the launch of Sobha Creek Vistas. Finally, Dubai will have luxury residences which redefine the finest level of living. The project was envisioned and designed to maximize the breath-taking views of the top neighbouring attraction. With strategic location of Sobha Creek Vistas at the epicenter of Dubai and facing the Dubai Creek, residents will enjoy a lifestyle that is sure to be the envy of many." 
"Given our focus for quality and lavish homes, Sobha Hartland is by far the most preferred choice for real estate investments. Surrounded by 2.4 million square feet of greenery and set along the Dubai Water Canal, the project enjoys the unique advantage of prime location backed by over 42 years of expertise. With Hartland Greens, waterfront villas, townhouses and now Sobha Creek Vistas – Sobha Realty continues to set a benchmark in offering world-class bespoke living experience," he added.
Completion is expected by May 2021.