News Point: As part of Puravankara's flagship expo- BIG 72 Hrs, the developer partners with leading banks, valuation experts, online portals and brokers to offer a 'Resale Assistance' Program with slew of benefits for registered users between June 15-17, 2018 in Bangalore.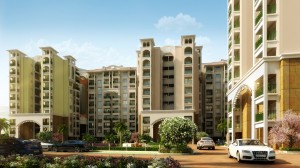 In a first-of-its-kind initiative, Puravankara Limited, has announced a Home Exchange Plan – an initiative with multiple benefits for the home sellers who are looking to upgrade their homes.
The innovative initiative, part of Puravankara's flagship expo – BIG 72Hrs attempts to mimic consumer behaviour in the automobile industry i.e. to "Exchange an old car for a new one".
While the housing industry is constrained to replicate the exact version of an Automobile Exchange into the context of homes because of the fragmented nature of the Housing market, Puravankara is attempting to assist home buyers to sell their existing home though a formal process, so as to help the customer plan for the finances required for the new home purchase.  
The mega event is slated for 15th-17thJune, 2018 and will entice both First Home buyers and Home buyers looking to upgrade their home, with very attractive price and payment plans.
The move will further propel the company's ambitious plans to invest INR 3,000 crore and achieve the construction target of 15 million sq. ft. in 2018-19 under Provident for premium-affordable housing and Puravankara brands.   
Home Exchange Plan – Quick, Reliable and Convenient
This new initiative has been conceived to address and simplify the needs of home sellers that intend to upgrade their homes. Puravankara has partnered with leading banks along with their certified valuation experts, also partnering with key brokers (from all corners of the city) and premium online real estate portals for a three-day event in Bengaluru.
There is extensive research that suggests a keen interest among property owners of the working populace to upgrade their real estate assets. However, the complex and vague procedures of valuation and resale discourage the move. All they need is additional help to streamline the re-sale process to give them greater predictability of being able to sell their old home.  
In the coming weekend, new home buyers can visit Puravankara's Big 72 Hours Home Fest to have their existing properties-instantly valued so as to help them plan their new home purchase.
India's first 'Resale Assistance Program' by Puravankara
Upon contracting to buy a new Puravankara Home, purchasers can choose to enrol themselves into the "Resale Assistance Program" with the following benefits:
Flexible payment plan on the new Puravankara home they choose to buy

Valuation certificate from third party valuation agencies

Easy loan facility against existing property – partnered with HDFC, ICICI and SBI

Complimentary assistance from empanelled Brokers

Complimentary Premium Listings onto top online property portals – housing.com  and 99acres

Complimentary participation into an innovative "Re-Sale Home Mela"

Hassle-free processing under one roof, all of which are designed to help the consumer to sell their old home 
The initiative comes at a time when the Indian real estate market is undergoing a transformation with the recent implementation of RERA and GST. With the festive season coming up, through this initiative, Puravankara will reach out to over a lakh of first time home buyers, NRI communities and investors to promote their affordable, ready-to-move-in and luxury homes.
Speaking on the campaignAnand Narayanan, Chief Operating Officer, Puravankara Ltd said, "We found that eight out of ten residents in Bangalore who are looking to resell their existing properties are often unaware or misinformed about the resale/upgrade process – from valuation to finding the right buyer. As a result, the process gets derailed, delayed and eventually dropped owing to the confusion. They do not end up upgrading to their dream home. We decided to address this issue by adding India's first Home Exchange Plan and Resale Assistance Plan to our ongoing flagship program BIG 72 Hrs, and help home sellers get the best and find the right buyers for their existing properties."
"With the implementation of RERA and GST, we strongly believe the trust between home buyers and builders will further improve. This initiative, by Puravankara will offer a platform for brokers, valuation experts, banks and online listing portals to come together and develop a new segment – home sellers can transact with ease, transparency and convenience bringing a brand new customer experience to the forefront," he adds.