The developer aspired to create its flagship project and in the process today stands out as the promise to deliver the flagship of a market otherwise gone directionless with affordable housing. Track2Realty finds Hawelia Valenova Park as a model for showcasing honest affordable luxury in the market where every other developer is claiming his low-priced project to be luxurious. The project nevertheless stands out and deserves to be rated Grade A.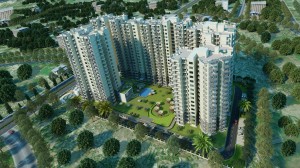 Project: Hawelia Valenova Park
Developer: Hawelia Group
Location: Greater Noida West (Noida Extension)
Area: 04 acres (Approx)
Saleable Units: 540 apartments
Track2Realty Rating: Grade A
A flagship project is the dream of ever developer and the developers traditionally have been identified with their flagship projects. That is precisely the reason why the developers can't resist the temptation to go for luxury and ultra-luxury launches to be counted; often beyond their financial bandwidth and/or execution capability.
Can affordable housing be the flagship of a developer? Well, it could only be when the developer is not only conscious with the market realities but also understands what is responsible housing. Hawelia Valenova Park stands out as one such project where the developer has indeed been in sync with today's market realities, profile of the location, and wants & needs of the buyers to create a signature of affordable luxury.
As I drive from Noida City Center to Greater Noida West, or in popular parlance known as Noida Extension, I take the right turn from the entry point of Kisaan Chowk.In less than two kilometres I take left turn and take further left turn a few meters down. These two left turns lands me to the 'Right Destination' – I come to Hawelia Valenova Park.
Hawelia Valneova Park a market differentiator

Hawelia Valenova Park stands out as the case study of affordable luxury

This project is shaping up as the flagship of affordable destination of Greater Noida West

The project defines how amenities are add-ons of apartment specifications and not vice versa 
Right property in the right market at the right price point has been oft-repeated marketing mantra in the real estate. Unfortunately, it is still unanswered as to what is right property in the right market and at the right price point. Hawelia Group, probably conscious of the market realities in this part of the world tried to create their flagship in a market where most of the developers failed to differentiate between affordable housing, EWS housing and BPL housing. And I am not even counting some over ambitious self-inflicted injuries that tried to sell super luxury in this affordable market.
With thorough market research the project was actually conceptualised as 'affordable luxury'. Howsoever debatable the concept of affordable luxury might be, the fact lies that today's budget conscious home buyer is pretty aspirational. The majority of the buyers today expect not just roof over the head but certain lifestyle and livability quotient. This is where Hawelia Valenova Park could position itself with quality construction in a market where poor construction quality has been nemesis of many a leading brands, forget lesser known developers.
Is Valenova Park right property in the right market and at the right price point? Well, what I cannot vouchsafe with certain amount of conviction is that whether Noida Extension has finally emerged as the right market after so many controversies. The infrastructure bottlenecks have still not been addressed and most of the projects, including metro rail, are only at the planning level. Of course, widening of National Highway 24 has come as a shot in the arm of this micro market.
But the market uncertainties apart, Hawelia Valenova Park could otherwise be conveniently termed as right property at the right price point. With a price point of INR 3800-4000 the project has an edge over some of the over-glorified and hyped projects in the neighbourhood. 
But in terms of apple to apple comparison many of the competing projects have more of fancy amenities than apartment specifications. They, of course, are often referred as the best or flagship in the given market with advertising clout & brokers connivance.
This project has applied for the approval of Occupation Certificate (OC) and the amenities are just shaping up. Therefore, whether the project has an edge with its amenities and overall look & feel as well is something that is yet to be evaluated. At the layout & project planning level, it seems the developer has tried best to incorporate all that could qualify as luxury for mid-segment home buyers.
What is all the more important is the fact that none of the other hyped projects in this market could boast the kind of apartment specifications that this project has to offer. Given the limitation of just less than 4 acres of land, this low density project has 540 apartments.
With a floor to ceiling height of 11 feet, doors at 8 feet height, wheel chair friendly entry in apartments & washrooms, quality wooden work and artistically painted apartments with textured paint, wide balconies with over 4 feet vertical railings, garbage chute facility, wider common passages & staircases and many other features that offers ease of usability in day-to-day living, this project definitely has an edge in the neighbourhood. 
In an honest confession, it is not easy to rate such projects since a project evaluation is a function of apartment features, amenities, brand equity of the developer as well as the profile of the given market. While Hawelia Valenova Park has cutting edge with many of the project features, the same could not be said about the given market.
However, given the fact that this market is crying for quality housing in general and affordable luxury in particular, this project promises to stand out not only as the flagship of the developer but also flagship of the market of Greater Noida West. Track2Realty rates this project as Grade A and this is one project which would need a follow up review pretty soon. After all, in Greater Noida West this is the only project reviewed by Track2Realty that promises to elevate its rating in the days to come.
Ravi Sinha 
@ravitrack2media