Track2Realty Exclusive
Bottom Line: Greater is not just in the name but having even greater potential when it comes to the property markets of Delhi-NCR. Be it Greater Noida, Greater Gurgaon or now the new jewel in the crown that is Greater Faridabad.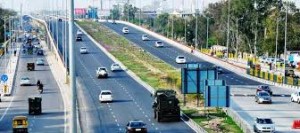 The low profile Greater Faridabad has the greartest of possibilities among the Greater extended zones of Delhi-NCR and the reasons are very many.
At a time when the stretching of city limits in the NCR were having issues ranging from land acquisition to administrative and infrastructure bottlenecks, this relatively silent zone of Faridabad, Neharpar area in popular parlance, has been taking giant strides in terms of investors' choice as the future destination with huge appreciation potential.
Greater Faridabad is not as glorified on the property landscape of Delhi-NCR as Greater Noida or Greater Gurgaon, but still property analysts are bullish over this property market.
Neharpar Area was rechristened as Greater Faridabad in 2004-05 under the city's Master Plan. The location's traction point is its sharing boundaries with Eastern Periphery Expressway, which connects with Ghaziabad, Noida, Faridabad and Palwal, making it an industrial corridor.
Though there are infrastructure issues with the region and bottlenecks are a deterrent for big ticket investments, still the proposed developments are poised to make Grater Faridabad grow great in the medium to long term from both the investment and habitation point of view. Today, it is one of the most affordable locations of NCR with unlimited potential of appreciation.
HUDA (Haryana Urban Development Auhtority) is making all efforts to project the market as investment destination and once operational the KMP (Kindly-Manesar-Palwal) Expressway will connect the Neharpar area with Delhi and Gurgaon. A three-km flyover between Delhi and Faridabad which will ease traffic bottlenecks at the Badarpur border has already cleared the traffic bottlenecks in the area. Six-laning of the existing bypass road starting from Badarpur, parallel to the Agra and Gurgaon canals is further adding to its connectivity.
Metro connectivity from Faridabad border to South, East and Central Delhi and various industrial & commercial centres like Badarpur, Tughlakabad, Mohan Estate, Sarita Vihar, Jasola, Okhla Industrial Area, Nehru Place, Mool Chand, Lajpat Nagar Areas, Lodhi Colony, and Central Secretariat will make many of the key locations of Central and South Delhi accessible.
Given all these infrastructure developments and projected developments over the next 2-3 years, Greater Faridabad can be vouchsafed as a promising mid to long term property investment bet. What is all the more interesting is the fact that the area has been witness to a boom from January 2012 when the property market was by and large sluggish in the rest of Delhi-NCR region.
Jagpravesh Khurana, a local broker feels the boom has rather slowed down now due to the sharp and sudden upward movement of property prices, and hence rates are still reasonable and therefore expected to hold. According to him, investors with a horizon of at least five years can expect to see a significant rate of return on investment. In fact, nearly 90 percent of investors into Neharpar are looking for long-term gains and the property market is by and large averse to speculators.
"Property rates in the region are around Rs. 3500 per sq feet and ready to possession property can fetch up to Rs. 4200 per sq feet. Since there is no inventory overhang in the area, analysts feel ROI of 30-40 per cent is quite realistic in this market," says Khurana.
Nikhil Hawelia, Managing Director of Hawelia Group believes in terms of affordable housing Greater Faridabad has more potential than any other affordable markets of Delhi-NCR. The reason being that it is close to the indistrial belt of Faridabad.
"Greater Faridabad is a case study in how affordable housing markets should be developed closer to economic centres. Over a period of time there might be upscale projects in the vicinity but the very character of Greater Faridabad will not change since premium housing projects are there in the main city of Faridabad," says Hawelia.
Any property market which has no inventory overhang or resale units can be termed as a very realistic market. Greater Faridabad scores high over this given parameter and if the projected infrastructure developments can be put on the fast track, this location can emerge as the best of the affordable destinations not only in Delhi-NCR but across the country.