News Point: Messe Global Exhibition and Convention Center coming to Pune this May 2018.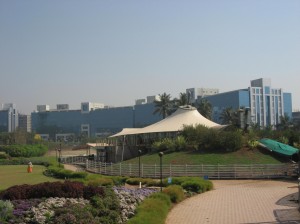 Messe Global, India's leading Multicity Event Venue Company is developing 'Messe Global Exhibition and Convention Center' at Laxmi Lawns, Magarpatta, Pune.
At a press conference it was announced that the Joint Venture between Magarpatta and EXHICON Group. Messe Global Pune should be open for events by the first week of May 2018.
The venue is being built at existing Laxmi Lawns, spread over in excess of 15 acres of land of lush green lawns in Magarpatta, Hadapsar.
This perfect venue for exhibitions, conventions, corporate occasions and weddings, Messe Global Pune will fill in as a five star venue in the city with more than 2500 vehicles parking space.
M. Q Syed, Managing Director of EXHICONÂ said, "EXHICON has ventured with Magar Family to Build, Operate and manage the biggest multipurpose venue in Pune. Purpose built exhibition centers are needed in this country and will be the mainstay of the INR 90,000 crores exhibition industry."
Satish Magar, Founder, ‎Magarpatta City, shared, "For Pune city, with the growing economy and newer businesses coming up in the near future, such world-class exhibition and convention centre at par with European knowhow was badly needed since long. This JV with Messe Global is a boon for the city and will help in pooling in best of the global shows for Puneites."
Messe Global will be launching 14 more purpose built exhibition centers in India with talks being conducted for 3 centers in Maharashtra.