Date/Time
Date(s) - 12/03/2018 - 14/03/2018
All Day
Location
Oman Convention and Exhibition Centre
Category(ies)
News Point: Track2Realty is media partner with Oman Real Estate Exhibition (OREX) organized at Oman Convention & Exhibition Centre on March 12-14.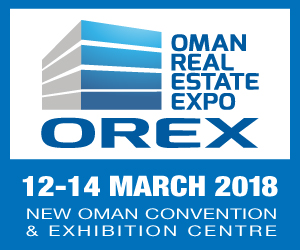 OREX is the largest and the only platform to showcase both local and International properties in Oman. First edition of OREX, a contemporary annual exhibition will be held in Muscat with a focus on international and local developers, architects, contractors, consultants and other industry professionals, stakeholders as well as individual and institutional investors.
The show is the only event of its kind that allows retail sales and purchases for both local and international properties. OREX is a perfect platform for both International & local markets to showcase their residential, commercial and mixed-use projects.
Providing consumers and real estate professionals from here and around the world with a 'one-stop hub' opportunity to capitalize and utilize the advantage of the best property deals, and a variety of services offered locally and internationally.
It facilitates hosting and meting of leading Industry players with potential investors with diverse background, from development, financing, implementation and marketing to the operation and utilization of properties
Despite a downturn in global oil prices, Oman's construction industry remains buoyant, driven by the construction of new highways, the development and implementation of several big-ticket projects, the expansion of the real estate sector, and a thriving tourism and leisure market.
Investments, especially in Integrated Tourism Complexes (ITCs) are steady and seeing more potential. The hospitality industry is the main growth and investment driver, with a number of current and pipelined projects being implemented and planned.
This is resulting from the optimism among large corporate investors about bright prospects of a rapidly growing and young population, which, in turn, is boosting the demand for housing, especially in the urban areas.
Demand from the private real estate sector is also driving growth, with several projects ranging from office buildings to shopping malls and ITCs. A number of new luxury hotels in the city are also in the pipeline. The new trend towards master-planned cities is a positive development for Oman which offer numerous tie-ups between public and private sectors. The opening up of property ownership rules has also encouraged more foreign buyers.