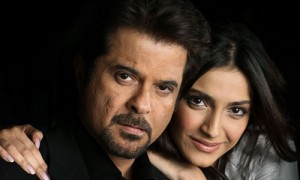 EMGEE Group has signed the celebrity father-daughter duo Anil and Sonam Kapoor as their brand ambassadors. EMGEE Group is planning to expand its footprint globally with luxury projects across India, Spain and Eastern Europe, and hence Sonam & Anil Kapoor made the natural choice considering their vast international appeal.
Anil Kapoor, on his association with the Group said, "After decades in the film industry, this is only my second endorsement. Being a celebrity I have a moral responsibility to what I represent and would support a company or brand only when I believe in it completely. EMGEE Group's large team of passion driven individuals knitted together by the desire to help build people's aspirations, exemplified by their tagline "We House Your Dreams", have accomplished commendable accolades with unsurpassed finesse. This central philosophy encompassing passion, quality, integrity and transparency forms the pillar of my family too and thus my daughter Sonam and I are delighted to partner in their progress".
Sonam Kapoor added, "What I love about the designs and architecture of EMGEE Group are that they craft dramatically innovative homes in energy packed sustainable spaces with unparallel comforts. EMGEE Group's endeavor in spearheading several trailblazing initiatives including the green revolution, elegant juxtaposing of enviable contemporary design concepts with untamed nature is what sets them apart and is a close replica of my own persona".
Mudhit Gupta CMD of EMGEE Group said, "Anil and Sonam Kapoor are a perfect fit as brand ambassadors as they epitomize family values. Today, Anil is not only a Bollywood star but also an international actor of great repute with his work in Hollywood being highly appreciated by one and all. He has played an important role in the award winning series '24' and with his upcoming movies 'Mission Impossible IV – Ghost Protocol' and 'Cities'. Sonam is reckoned as a youth icon in the country defining true elegance and style at a young age, symbolizing qualities that EMGEE Group stands for and our association with them will help us scale new heights by strengthening our bond with our target audience."
Speaking about the association, Atul Kasbekar, CMD, Bling Entertainment Solutions, the company that manages the Kapoors' commercial interests said, "To get Anil to agree to endorse any brand is an exercise unto itself. He is very particular about the synergy and delivery of promise that the brand propagates. We're delighted that Mr Kapoor has consented to endorse the EMGEE brand.
EMGEE Group focuses on initiating projects of rain-water harvesting in India which have been acclaimed with the prestigious Platinum Certification for Leadership in Energy and Environmental Design (LEED) from the non-profit organization "The United States Green Building Council".