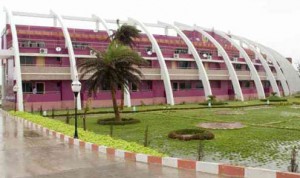 Calcutta high court on Wednesday dismissed a writ filed by Rose Valley Real Estate and Construction Company Limited, challenging an order of the Securities and Exchange Board of India (SEBI). The latter had asked the company to stop collecting money from the public under its Collective Investment Scheme (CIS).
Dismissing the petition, Justice Jayanta Kumar Biswas observed: "As there is an appellate forum in SEBI, where any person can appeal against any of its interim orders, the court is of the opinion that it should not entertain such a writ petition."
The court also held that the company should ventilate its grievances before the Appellate Board of SEBI which was constituted under the SEBI Act. Justice Biswas said the company should go to the appellate forum of SEBI against the SEBI order passed on January 3, 2011.
Rose Valley had challenged SEBI's jurisdiction to pass an order prohibiting it from collecting money from the public in the name of its CIS. The petition argued that since the company was not listed with SEBI, the central regulatory authority had no right or jurisdiction to interfere with Rose Valley's business.
The court rejected this contention of the company and accepted SEBI's submission that the company's collections made under CIS were illegal. Thus, SEBI has the power to regulate collection of money by the company irrespective of whether it is listed or not.
SEBI argued that the company collected money in the name of its real estate business, but never allotted land to anybody. SEBI argued that it had often sought relevant papers on the CIS from the company, but the latter never submitted the same.
The Economic Offence department had lodged a complaint against the company and SEBI, after a proper inquiry, concluded that the company should be stopped from collecting money.
After the order was passed, the company counsel Moushumi Bhattachryya said Rose Valley would take further steps after going through the judgment.