News Point: Steady demand to continue in H2 2017, upward pressure on rents likely in south cities, finds Colliers Research.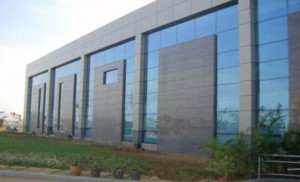 Despite delayed implication of demonetisation and recent layoffs by technology companies, due to automation and changing technology, commercial market continued to remain resilient, backed by sustained expansion plans of the major occupiers. The Gross office take-up in India amounted to 9.6 mn sq ft (882,800 sq m) in Q2 2017 representing a nominal 2% increase Q-o-Q from 9.3 mn sq ft (Total office absorption in H1 2017 stands at ~18.9 mn sq ft, as per Colliers Research marginally down by 2% from, H1 2016)
"Real Estate has seen a series of challenging regulatory impediments in its performances, with demonetization, RERA and now GST. In the post-GST era, service tax (15%) in commercial leases will be replaced with GST at 18%. However, we expect demand to remain steady, with some large activities of consolidations and relocations in Bengaluru, Mumbai, Pune and NCR. Hyderabad witnessed sharp rise in demand from 0.51 million sf to 1.6 million sf QoQ, which is more that double. Overall office demand is expected to see steady rise in take up for next few quarters", Ravi Ahuja, Executive Director, Office Services & Investment Sales, Colliers International India.
As expected, Bengaluru continued to dominate the office market and recorded an overwhelming share of 34% of total leasing volume, followed by NCR at 19% and Hyderabad at 17%. Mumbai, Chennai, Pune and Kolkata accounted for 13%, 11%, 4%, and 2% respectively, on overall leasing volume.
"Despite, recent layoffs' alert by technology companies due to automation and changing technology, we expect the commercial market to remain resilient backed by sustained expansion plans of the major occupiers. July onwards, India adopted a multi-tiered Goods and Services tax (GST) structure. Although it will result in marginal increase in occupancy costs, we do not expect any adverse impact on demand. GST implementation should bring operational efficiency and widen the tax base, leading to higher revenues, infrastructure spending and more investment in the country. The influence of recent adoption of the goods and services tax (GST) and increasing interests of investors in warehousing sector should be noticeable events to watch out for in H2 2017", Surabhi Arora, Senior Associate Director, Research, Colliers International India.
Bengaluru 
With approximately 3.25 million sq ft (0.3 million sq m) of gross absorption, Bengaluru remained the most active office market in India. Although, the q-o-q numbers represent a marginal decrease of about 7% (3.5mn sq ft in Q1 2017) in gross absorption, we expect the leasing momentum to continue in the coming quarters.  About 43% of the total leasing was concentrated in Special Economic Zones driven by a couple of large size (above 100,000 sq ft) transactions.
We expect leasing activity to be dominated by small and mid-size transactions as BTS options are expected to remain the preferred choice among occupiers with large size requirements in prime corridors. Despite a supply pipeline of nearly 3.0 million sq ft (0.3 million sq m) in H2 2017, new occupiers with large size requirements may find it difficult to lock in long-term leases. The small and mid-size occupiers should consider flexible workspaces to leverage on their location and the ease of operation they provide.
Delhi-NCR
NCR recorded gross absorption at 1.8 million sq ft (from 1.57 mn sq ft in Q1 2017), Gurgaon with 50% of total NCR absorption remained the preferred choice among occupiers followed by NOIDA and Delhi that shared about 30% and 20% respectively.
The gross leasing volume in Gurgaon reached about 0.9 mn sq ft (83,612 sq m) marginally up from last quarter numbers. While NOIDA's commercial market witnessed sustained interest from occupiers in Q2 2017, resulting in absorption of about 0.5 million sq ft (46,400 sq m) of Grade A office space; marginally up from the previous quarter. About 70% of this demand was contributed by the technology sector, including e-commerce and fintech companies. In Delhi, the corporate leasing activity remained stable with gross absorption standing at only about 0.42 million sq ft (39,019 sq m), up by 27% q-o-q.
Hyderabad
Commercial leasing revived with about 1.6 million sq ft (145,300 sq m) of gross absorption in Q2 2017 versus just 0.51 million sq ft (47,300 sq m) gross leasing activity in Q1 2017. Regardless of the anxieties about lay-offs and automation in the technology sector, the industrial sector continued to expand and accounted for 92% of overall office leasing in the city. As per Colliers International, the Central Business District (CBD), off-CBD and PBD micromarkets recorded 5%, 4% and 2% of the remaining share in gross leasing respectively.
Mumbai
In Q2 2017, the gross absorption was recorded at 1.2 million sq ft (0.1 million sq m) down from 1.7 mn sq ft in Q1 2017. Except for a few large transactions, the average deal size remained low at 15,400 sq ft (1,430 sq m). Despite a 29% decline in transaction volume from Q1 2017, we expect absorption to improve in Q3, with a few large size transactions in the pipeline totaling to 0.75 mn sq ft (70,000 sq m). We expect future demand to be reinforced by data centres, coworking operators, logistics and warehousing companies, looking at the increased enquiries from these sectors.
Chennai
The gross absorption in Q2 2017 for Chennai recorded about 1.1 million sq ft (92,903 sq m) of gross absorption (same as in Q1 2017). The market witnessed a shift in occupier focus towards the OMR-Post toll belt, which increased its share in gross leasing to 33% in Q2 2017. With sturdy expansion and relocations, OMR-Pre-toll accounted for 26% of the market, while the intracity locations in Central Business District (CBD) and off-CBD micromarkets accounted for 12% and 16% respectively. Moreover, with sizeable transactions in Ambattur, the micromarket represented 7% of gross absorption and the remaining 6% was recorded in Mount Poonamalle High (MPH) Road.
Pune
The unavailability of quality supply further affected the overall leasing volume in Q2 2017. The gross leasing was recorded at only 0.4 million sq ft (37,861 sq m) in Q2, which represents a 48% decrease from Q1 (0.78 million sq ft in Q1 2017). With no supply pipeline visible in 2017, we expect the absorption rate to remain low in coming quarters. Although, Pune is one of the major IT-ITeS markets in India, banking, financial services and insurance (BFSI) accounted for a 30% share of total absorption, followed by IT-ITeS (26%), other industries (23%), engineering and manufacturing (13%) and healthcare (7%).
Kolkata 
Sustained leasing momentum was observed in Q2 2017 with 0.2 million sq ft (18,500 sq m) of gross absorption, similar to absorption in Q1. The occupier demand was driven by relocations and expansions. The bulk of leasing volume equating to 79% was concentrated in Sector V while peripheral areas like New Town and Rajarhat accounted for an 18% share. The remaining 3% of the transaction volume was observed at CBD locations. H1 2017 had witnessed more enquiries since the last two years; hence we expect leasing activity to intensify in upcoming quarters.